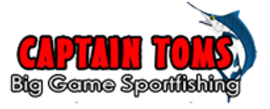 captaintoms.com
Captain Tom Carton Twenty years ago Captain Tom started the very first charter fishing service in the Jaco Beach, Herradura Bay area. Since then he has extensively fished the warm waters of Costa Rica's Pacific coast and is considered to be one of the top big game fishing captains and has one of the most successful charter services in Costa Rica. Tom won the Herradura Open Roosterfish Tournament 4 years in a row. In 2006, Captain Tom tagged more than 1,500 sailfish. He fishes with circle hooks to ensure for healthy releases. He only tags the bigger species like the Marlin. Book a Charter Call Capt. Tom for Green Season Discounts 011-506-2637-8994 Captain Tom grew up on the Jersey Shore and he has fished both saltwater and freshwater spots throughout the United States and Latin America. Fishing has always been a passion for Captain Tom. He truly enjoys the hunt and the thrill of catching big game fish and never tires of seeing the extreme pleasure on the faces of his guests when they land that big blue marlin or sailfish. He also enjoys making and breaking IGFA records, too! After 23 years of charter fishing Captain has now sought the best captains in the area to man his fleet for your fishing experience. These captains are experienced in the deep waters as well as inshore and are even bi-lingual as well. Captain Tom will make sure that you will get the experience that you came down to Costa Rica for!!! With a hit rate of almost 100%, your charter with Captain Tom is sure to be the ultimate sport fishing experience. Captain Tom's Charters can cater to individuals needs instructing novice fishermen and perhaps even teaching the experienced veterans a thing or two also. The captains and crew on all of our available boats are knowledgeable, friendly and will bend over backwards to give you a great day and memorable experience. We offer a wide variety of charter trips to meet all of your fishing needs. For those wanting to go for the big billfish there are full and half day offshore deepwater charters. For those wanting calmer waters and not so strenuous a workout the rocks and reefs inshore offer great fishing too and again there are both full day and half-day inshore charters on all of our boats. And for those looking for the best of both worlds how about a full day charter starting in the deep waters going for the "grand slam" and then finishing the day in the rocks and reefs catching roosterfish and the other plentiful fish in the reefs and rocks off the coast. We also specialize in-group charters and invite you to bring your friends, clubs or even plan the company vacation in paradise. We have a variety of sport fishing boats and we will take care of everything, all you will have to do is show up and be ready for the time of your and your groups lives. We can accommodate any size group no matter how big or small. Whether it is an inshore, offshore or custom fishing charter we provide everything needed for a day of fishing. What's provided with your fishing charter Penn and Shimano rods and reels as well as live bait, lures, teasers and all tackle. Half day charters ---- snacks, fruit, and beverages (beer included) Full day charters ---- snacks, fruit, lunch and beverages (beer included) We Suggest: Bring sunscreen, hat, long sleeve shirt and cameras If you are fly-fishing please bring your own flys If you are going to be going for records in a specific line class please bring your own ultra-light line. Along with deep-water offshore and inshore charters we also can arrange for other services and custom tours.​ dolphin/whale watching ​Island Cruises ​​Secluded Beach Drops ​other custom charters
Pricing & Rates

36' Custom Marcam

Half Day $1,850

Full Day $2,300

We accept cash, credit, Paypal, and Zelle.

For special pricing call the captain directly.

Captain Tom's Los Suenos Fishing Charters can cater to individuals needs instructing novice fishermen and perhaps even teaching the experienced veterans a thing or two also. The captains and crew on all of our available boats are knowledgeable, friendly and will bend over backwards to give you a great day and memorable experience.

We offer a wide variety of charter trips to meet all of your fishing needs. For those wanting to go for the big billfish there are full and half day offshore deepwater charters. For those wanting calmer waters and not so strenuous a workout the rocks and reefs inshore offer great fishing too and again there are both full day and half-day inshore charters on all of our boats in Los Suenos.

And for those looking for the best of both worlds how about a full day charter starting in the deep waters going for the "grand slam" and then finishing the day in the rocks and reefs catching roosterfish and the other plentiful fish in the reefs and rocks off the coast.

We also specialize in-group charters and invite you to bring your friends, clubs or even plan the company vacation in paradise. We have a variety of sport fishing boats and we will take care of everything, all you will have to do is show up and be ready for the time of your and your groups lives. We can accommodate any size group no matter how big or small. Whether it is an inshore, offshore or custom fishing charter we provide everything needed for a day of fishing.

What's provided with your Los Suenos fishing charter

Penn and Shimano rods and reels as well as live bait, lures, teasers and all tackle.

Half day charters ---- snacks, fruit, and beverages (beer included)

Full day charters ---- snacks, fruit, lunch and beverages (beer included)

We Suggest:

Bring sunscreen, hat, long sleeve shirt and cameras

If you are fly-fishing please bring your own flys

If you are going to be going for records in a specific line class please bring your own ultra-light line.

Along with deep-water offshore and inshore charters we also can arrange for other services and custom tours.​

dolphin/whale watching

​Island Cruises

​​Secluded Beach Drops

​other custom charters

Los Suenos Fishing Information